FROM THE DESK OF THE MAYOR AND COUNCIL:
We are looking forward to 2015 in The City of Maysville. We are in the process of updating our web page (cityofmaysvillega.org) for the city. It will show projects that have been accomplished in the last three years, and those that are currently in process.
Below are a list of accomplishments for the City of Maysville in the past couple of years and things that we are planning to work on in 2015.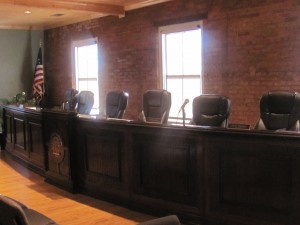 (1)          Remodeled City Hall, upstairs and downstairs. The city now has a professional looking Court Room and Council Chamber upstairs. Thanks to Jackson County Building Department for helping with the project, this saved the city a lot of money.  This is your SPLOST dollars at work.
(2)          The Maysville Police Department has been updated, with a new coat of paint inside, new flooring and plumbing throughout the building. Thanks to Jackson Building Department for helping out with this project which kept the cost down for the city. This is your SPLOST money at work.
(3)          The Maysville Library has been painted both inside and out.   The colors have been changed to reflect a more updated look. The old Council Chamber at the Library has been changed into a Children's Room with a mural painted on the wall (Compliments of Donna Garrison).
(4)          The City has received a $50,000 Grant from the Georgia Department of Natural Resources State Parks & Historic Sites for playground equipment. Another Grant for $100,000.00 has also been applied for with an announcement date sometime in March 2015.  If the city receives this grant it will be used to asphalt walking trails around the 40 acres tract at 48A Homer Street.
(5)          We are diligently working on upgrading several water projects in the city.
(6)          We have successfully been able to keep your city tax and water rates as low as possible.
(7)          A Grant for $1,900.000.00 has been applied for to upgrade our water lines and water pressure  on the west side of town.
You are encouraged to come to our meetings held at 4 Homer Street on the first Monday of every month at 7:00 p.m…  The Workshops are held at 6:00 p.m. on the last Thursday of every month.
PLEASE COME SUPPORT US AT THESE MEETINGS AND SEE FOR YOURSELF HOW WE ARE WORKING TO SERVE THE CITIZENS OF OUR TOWN.